56th Annual Hudson Halloween Window Painting Registration Update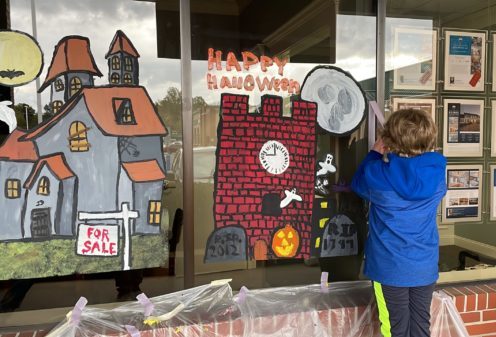 All students in grades 5-12 are invited to paint the windows of Hudson on Saturday, Oct. 22 and Sunday, Oct. 23 from 8 a.m.-2 p.m.
UPDATE: The waitlist is full for the 56th Halloween Windows Painting Event.  This has been a record-breaking year for registrations and demand is outweighing our supply of available windows.  We apologize for any inconvenience this has caused. Thank you for your understanding.  Please contact

[email protected]

gmail.com if you have any questions.
***
REGISTRATION OPEN: Monday, September 19, 2022, at 12 a.m.
REGISTRATION DEADLINE: Wednesday, Sept 28, 2022, at 11:59 p.m.
Registration costs $26 per team or solo artist. Teams only register and pay once.
Grades 5-8 will work in teams of two – No groups of three will be accepted. Grades 9-12 may work with a partner or as a solo artist. One window per team or student.
REGISTRATION STEPS:                     
1. Register Online – Only ONE (1) parent/student registers and submits the $26 fee online. Teams do not register twice. If you are the parent registering a team, please make sure you have the following information for your child's teammate when you register–first/last name, T-shirt size, & grade and their parent/guardian first/last name, phone number & email. Note, T-shirts are adult size M, L, XL & XXL as they are meant to act as a smock to protect clothes.
2. Submit Artwork: Between Sept. 19-28
• Artist(s) submit artwork to their school – High School Main Office, Middle School Resource Center, East Woods Intermediate Art Teacher. If you have siblings on separate teams but want them to paint near each other, please staple & turn all art artwork into the oldest siblings' school.
• Artwork shall be submitted in full color on 8 1⁄2 x 11 unlined white paper in a portrait format as this fits the windows better than landscape. Important: Include Name(s), grade(s), email(s), and phone # of artists on back. Please write very neatly as we need to be able to read it.
• Artwork must be family friendly Halloween/Autumn designs. Inappropriate artwork will not be accepted at the discretion of the Event Chairperson.
BOTH steps must be completed by Sept. 28 for window assignment. 
Window Assignments and detailed Painting Instructions will be communicated via email on 10/20/2022. To view the Painting Instructions in advance please visit here (PDF). It is important to note that one parent/chaperone must be present at check-in and during the entire event.
There are typically 260 windows available. If registered students exceed that number, we will work very hard to ensure all registered students are accommodated as we do not want anyone left out.
Health & safety are our top priority, all COVID precautions as set forth by the CDC, the Ohio Department of Health, Summit County Public Health & the City of Hudson, and the Hudson City School District will be followed during the event.
Email questions to: Susan Dukes and Sara Lerner.