East Woods Penny Wars PTO Fundraiser: Sept. 25-29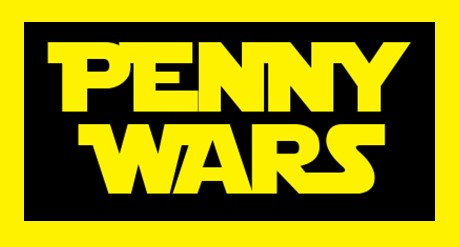 It is a period of spirited competition. Rebel students, striking from their own classrooms have won their first victory against the other classrooms in the Wing. During the battle, Rebel spies managed to add nickels, dimes, and quarters to the containers outside enemy classrooms, while fortifying their own Rebel base with PENNIES AND DOLLARS.
Pursued by other classes' sinister agents, PRINCIPAL WININGER race home aboard her starship, custodian of the coins and dollar bills that can save her students and restore freedom and fun events to East Woods.
 SEPTEMBER 25-29
Each class will have a container near grade wings, labeled with that class name for collecting money.
Classes only compete against their fellow grade level.
A class gains points by adding pennies, bills, checks made payable to Hudson PTO or online donation to their own containers.
A class can lower other class' totals by adding silver coins (nickels, dimes, quarters, and half dollars) to other class containers.
Each cent is worth one point when adding or subtracting.
The top 3 finishers per grade level will receive money that will be able to go towards classroom/recess items that they get to choose.
The TOP winner of the whole school will be able to go to Goldfish Swim School for a class party!
BONUS!! If you bring in your coins already rolled, you will receive a +25 point bonus on pennies, and a -25 bonus penalty on nickels, dimes, and quarters! For example: an already-rolled roll of pennies will equal +75 points for your class (instead of +50), while an already-rolled roll of quarters will equal a -1,025 point penalty for another class (instead of a -1,000 point penalty).
POINTS
Adding  
Pennies +1 point  
$1 dollar +100 points  
$5 dollars +500 points 
$10 dollars +1,000 points
$20 dollars +2,000 points 
Subtracting
Nickels -5 points
Dimes -10 points
Quarters -25 point 
Your participation supports programs benefiting all East Woods students, including Right to Read Week, field trips, and Bon Voyage. THANK YOU FOR YOUR SUPPORT!
Questions? Please contact Kim Canterbury