East Woods Penny Wars Fall Fundraiser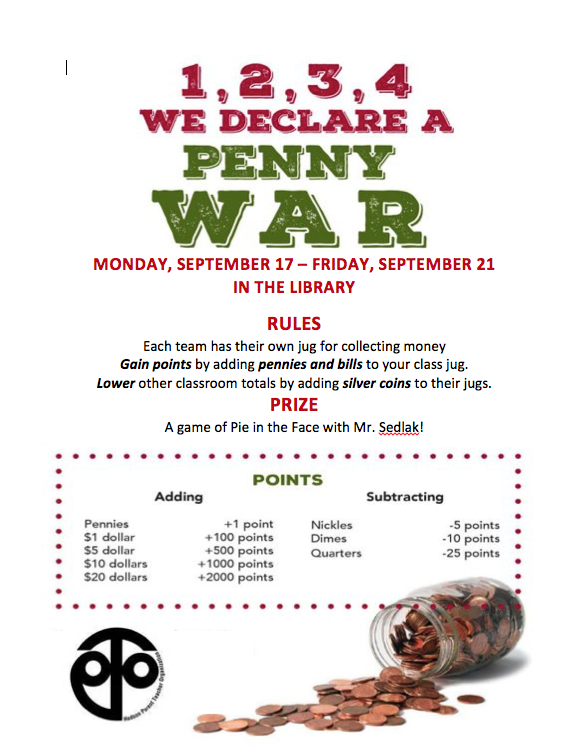 On September 17th  we will begin our week long "Penny  War." The Penny War will be between each team, and will run from Monday, September 17ththrough Friday, September 21st. The winning team for each grade level will be invited to play or watch a friendly game of Pie in the Face between Mr. Sedlak and maybe some guest administration and staff.
Each team will have a large container located in the commons of the school. Students may put pennies or dollars (or checks made out to the Hudson PTO) in their team's container. The team with the largest average amount of money per classroom will win an invitation to play or watch a Pie in the Face game with Mr. Sedlak.

 

Here is the catch—students may bring in silver coins to put into other team's containers. Any silver coins (quarters, dimes, nickels) in a container, will take away from the total amount in that container, therefore making it a game!
This is designed to be fun for the students, while at the same time collecting for the PTO WITHOUT SELLING products to family and friends.
Thank you for helping us to fulfill our mission of financially supplementing the education of the Hudson children; actively supporting the Hudson City Schools; and providing programs to instill a fun and positive atmosphere within the home, school and community! By supporting the PTO fundraiser you will be supporting the following activities for your student at East Woods this year!
Right to Read Week &

Guest Author
School Busing for Field Trips
Staff Appreciation Week
COSI
Conference Dinners
Carnival
Bon Voyage
Thank you for supporting Hudson PTO and our East Woods Students. For questions please contact Sydney Caudill at

[email protected]

.
To donate-contribute online please use the form below.