Ellsworth Hill PTO fall mums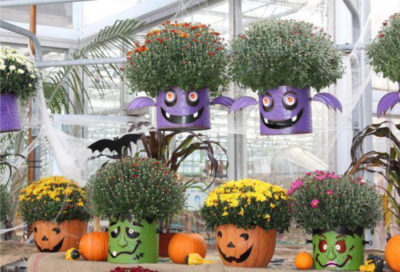 We are so excited that Ellsworth Hill is once again offering the popular fall mums (Mumkins and Mumsters) for sale as a fundraiser! Due to popular demand, we've extended the sale through Monday, Sept. 9, at 11:59 p.m.
Please ask your friends, family, and neighbors, and share online! These beautiful fall plants will be available with or without Halloween-themed planters. By supporting the PTO fall fundraiser, you are supporting the following activities at Ellsworth Hill in 2019-20: Right to Read Week and author visit, school busing for field trips, Polar Express, family movie night, the end-of-year Carnival, and more!
To use the online cart:
1. Visit www.fundraiseIT.org.
2. Click on "Online Shopping" button.
3. Enter the "Web Sale Code" that is printed on the label with your student's name on it. This label is located
on the outside of the envelope containing your order form.
4. Follow the onscreen prompts to obtain your student's shopping cart URL. The URL is unique to each
student. The URL displays to the screen, and will also be emailed to you so it's easy to share.
5. Share the URL on Facebook, Twitter, social media, email, etc.
To learn what orders were placed online for your student:
1. Go to www.fundraiseIT.org.
2. Click PARENTS.
3. Click STUDENT SALE STATUS.
4. View all of the orders placed using your seller's unique URL.
Order forms were due to your child's teacher by September 5. If you didn't turn in your form or have any questions, please contact Dianne Ketler at [email protected].
ORDERS NEED TO BE PICKED UP AT THE ELLSWORTH HILL BUS LOT ON SEPTEMBER 21 between 11 am and 3 pm. The bus lot is located on the north side of the building, adjacent to Middleton Road.
THE 2nd GRADE AND PRESCHOOL CLASSES THAT SELL THE MOST WILL EACH RECEIVE A FUN DAY WITH MRS. FILOMENA! THESE CLASSES WILL GET AN EXTRA 30-MINUTE PERIOD IN THE MEDIA CENTER TO HAVE FUN BUILDING AND CREATING WITH ELLSWORTH HILL'S MAKERSPACE MATERIALS.
IF WE REACH OUR OVERALL FUNDRAISING GOAL, EACH 2ND GRADE AND PRESCHOOL CLASS WILL RECEIVE AN EXTRA RECESS!
Thank you for supporting HUDSON PTO and our Ellsworth Students!
For questions please contact Dianne Ketler at [email protected].mailto:[email protected]