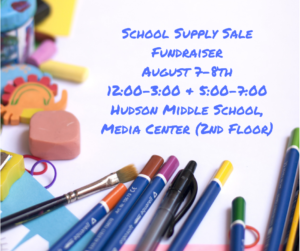 The HMS Annual PTO Supply Sale Fundraiser is Set for Aug. 7 and 8
The Hudson PTO will once again offer its Annual Middle School "Back-To-School" Supply Sale on Aug.  7 and 8. 
This event will be held in the HMS Media Center and is open to the public during Middle School registration hours, 12-3 p.m. and 5-7 p.m. on both days. 
Everyone is welcome. We bring you supply items from over a dozen different sources to ensure all your school supply needs are met with quality items in an easy to shop format with competitive prices. Shopping with us is simple and organized. Bring your list of classes, pick up a supply list and grab a shopping basket. Shop the supplies that are arranged in the order of the supply lists. Our friendly cashiers will complete the checkout process with iPads and accept cash, check or credit. Enjoy one stop shopping and save yourself the trouble of going from one sold out store to another. 
All proceeds from the sale will directly benefit the Hudson Middle School and its students. Questions? Please contact Brenda Sheppard at [email protected].
Successful PTO events such as, the Middle School Supply Sale, are staffed by volunteers.  We have volunteer positions still to be filled for the upcoming supply sale dates. Those interested in volunteering may contact Brenda Sheppard at [email protected].
Coordinator Contact Information: