Road Trip to 2023 – 8th Grade End of Year Party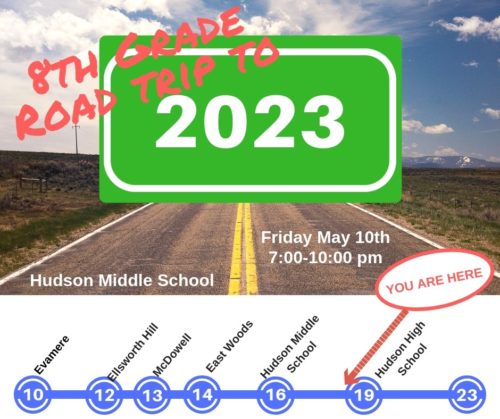 On May 10th we are hosting the BIGGEST end of year party that this 8th grade class has ever seen! This party is a celebration of completing Middle School and advancing to Hudson High School.
This special evening includes exciting entertainment & activities:
DJ   |  Bull Riding  |  Axe Throwing   |   Surf Riding   |   Human Gyroscope  |   Green Screen Photos  |Casino Games  |  Funny Money Wind Machine  |  Ping Pong  |   Corn Hole   | And More!
Students can bring home mementos such as their very own hand dipped & decorated wax hands, spin art or a caricature drawing done by a professional artist.
Raffle prizes valued at over $700 will be given away throughout the night. Prizes include:
Beats Earbuds  |   Pool Party Pack  |   My Karaoke Microphone | Gift Cards: Amazon, Coldstone, Hershey's, Gavin Scott, Regal, SkyZone, Target & Visa
Food & snacks will be provided: Pizza, Popsicles, Ice Cream and more!

Friday, May 10th from 7:00-10:00pm at Hudson Middle School
Contact Mary Beth Miller ([email protected]) or Brenda Sheppard ([email protected]) regarding questions, to volunteer, or donate additional prizes.