K-4th Grade Pumpkin Patch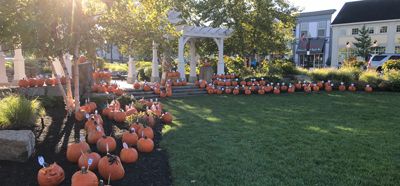 PTO has something brewing for K-4th graders
Registration for a pumpkins is now closed. If you previously registered, pick up your 12-15 lb pumpkin Friday, October 23, from 4-7 pm in the Ace Hardware parking lot. Take your pumpkin home to carve and return it to the Green at First and Main to be displayed on Sunday, October 25, between 11 am-4 pm. They will be lit up for Halloween. Participants will also receive a name plate template via email for you to print to be displayed with your pumpkin.
Drop-off information: This year, in order to have the event in the pandemic, we have strict guidelines that must be adhered to as approved by the City of Hudson and the Hudson City School District. Reverve a pumpkin drop-off time at this Sign Up Genius. Drop-off times are in 20 minute increments.
For both pick-up at Ace and drop-off at First and Main, masks will be required. Thank you for your cooperation.
Pumpkin name tags: This year you and your kids will print your own name tag that will mark your pumpkin in the patch. Download the PDF, print at home, fill out the name and return it with the pumpkin at the drop-off.
For more information, contact Halle Musone at [email protected].
Presented by: