Pancake Breakfast coming March 7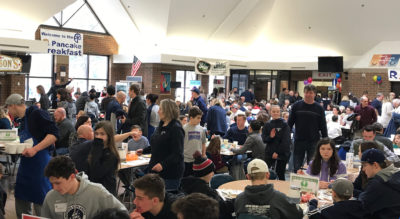 Come join us for the 63rd celebration of the Hudson PTO's Annual Pancake Breakfast on Saturday, March 7, 2020!
• Enjoy delicious pancakes and sausage, milk, juice and coffee
• Listen to wonderful music presented by students in grades 4-12
• Visit the amazing art display showcasing projects from students in every grade
• Check out all the fun games and face painting in the Game Room
• Purchase tickets for your chance to win the 50/50 raffle or one of our fantastic prize packages
This event raises monies for teacher grants and student scholarships. To make this PTO fundraiser a success we look to your support through sponsorship and raffle donations. Please direct raffle inquiries and sponsor questions to Jenn Scheeser at [email protected] or call her at 330-396-6391. We thank you for your support!