Announcing this years, PTO fall fundraiser.  This year PTO has teamed up with KidStuff coupon books for our fall fundraiser.
Books were sent home in your child's backpack September 21-22, 2017.
Books are $25

 and we earn 50% profit! Proceeds from the fundraiser will go towards some great programs and activities at the elementary schools including, COSI, Author Visits, Right to Read Week, Field Trips, Movie Nights, and Carnivals just to name a few!
KidStuff coupons can save you money at many shops, restaurants and activities including Dick's Sporting Goods, Francesca's, Learned Owl, Olympia Sports and Sky Zone right here in Hudson!
See all 30 editions here.
HMS sold the KidStuff 16-17 coupon book last year.  PTO is now selling the 17-18 book with coupons good through December 31, 2018… That's over 14 months of saving! Use enough coupons and you can recoup the $25 you paid for the book plus more!
Students earn 1 FREE book for every 5 books they sell.
KidStuff does not promote door-to-door sales by children, but friends and relatives might love the book.
The Fall fundraiser will run only 2 weeks and books/money are due back by Friday, October 6th.
The top selling class at Evamere will get a pizza party!!
---
If you'd rather make a donation instead of purchasing products, please 
Click Here
 for the paper form or
 to donate online.
---
Each elementary school has specific instructions that were sent home with your child. These can also be found at the bottom of this page.  Questions, please contact the event chair.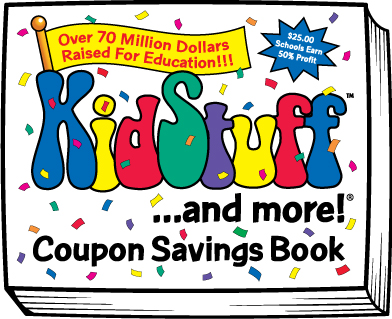 |||::
76 N Hayden Pkwy, Hudson, OH 44236, USA
|||::
7750 Stow Rd, Hudson, OH 44236, USA
|||::
280 N Hayden Pkwy, Hudson, OH 44236, USA
|||::
120 N Hayden Pkwy, Hudson, OH 44236, USA