Halloween Window Painting & K-4 Pumpkin Patch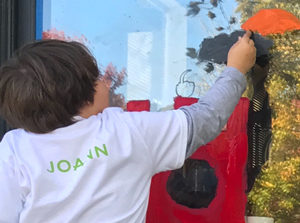 Thank you for participating and supporting our students as they painted windows and carved pumpkins for the annual Hudson PTO Halloween Windows and Pumpkin Patch events. Please make sure to come downtown and enjoy the students' hard work.
Pumpkins in the Pumpkin Patch will be illuminated during the Merchants' Trick or Treat on Thursday, Oct. 24, from 4-6 p.m. The Pumpkin Patch is located on the First & Main Green.
Congratulations to 11th grader Chloe McGreal, whose design was selected as the winner of the Hudson Halloween Window Painting T-shirt design contest! Her drawing was on the front of the T-shirt worn by 550 students.
Find a student's window: Acme | First & Main | Main St. & Other