57th Annual Hudson Halloween Window Painting assignments and instructions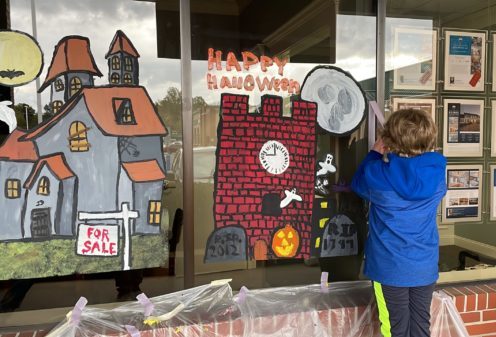 IMPORTANT Painting Rules & Instructions Saturday, Oct. 21 and Sunday, Oct. 22, 2023, from 8 am-2 pm
Assignments are listed alphabetical order by last names of the child who registered. You will see your window (including number) and painting day.
CHECK IN
Check in at the Hudson Library on Saturday or Sunday from 8 am to 2 pm. Artists may choose the timeframe they wish to paint.
One parent/chaperone must be present at check in and during the entire painting process.
Painting must be completed by 2 pm on the day chosen to paint.
During check-in you or your team will receive original artwork, T-shirts to wear & ONE supply bag containing: 9 paint colors, paintbrushes & a disposable drop cloth.
WHEN YOU ARRIVE AT YOUR ASSIGNED WINDOW
Look for the orange tag in the corner of the window with your name(s).
STOP – Look at your assigned window for cracks or defect. Contact one of the committee members ASAP if your window is damaged.

REQUIRED

: BRING PAINTERS TAPE – DROP CLOTH must be used to cover the bottom of the window & sidewalk. Please use painting tape to attach it.
Your window has been marked off with blue tape – BE VERY CAREFUL – DO NOT PAINT ON or OUTSIDE OF THE TAPE!!! Merchants have been very generous to allow the use of their windows. If we damage or make a mess, we risk losing their trust and the ability to paint their window in the future.
Only use the Paint Provided! NO GLITTER or SPLAT PAINTING ALLOWED! YOUR PAINTING WILL BE REMOVED. These are simple rules to follow and are in place for a reason. We hate to remove a student's artwork. Please don't make us do that.
Paint will crack if put on too thick. If paint is thick – add water.
If you spill paint on the sidewalk or stain the windowsill, please clean it up immediately!
Please do not enter the merchant store for water or to clean brushes.
Stay clear of business entrances if possible. Please move for customers that are entering or exiting. We want to make sure businesses can function as usual.
IMPORTANT – Clean your area when finished. Remove the blue tape and the orange tag from the window. Move any flower containers/furniture back if you have moved them. Clean up any paint spills. Dispose of your trash in provided trash cans.
Please bring back any unopen or slightly used paint. We can utilize unopen paint next year and donate slightly used bottles local charities.
IMPORTANT: ADDITIONAL SUPPLIES YOU SHOULD BRING
Smaller/Larger Paint Brushes
Garbage Bag
Dry Erase Markers
Stepladder/stool
Paper Plate/Bowls for Paint
Paper Towels
Water/Plastic Cups
Tape for drop cloth
NOTE: Hudson PTO will not be held responsible for any injuries or illnesses that occur due to the failure to follow the above rules & instructions; also, you will be held accountable for any damages caused by not following the above instructions. Email questions to:
Susan Dukes
Presented by