Halloween Window Painting T-Shirt Design Contest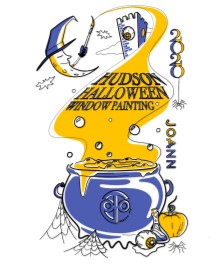 Be part of the tradition and design the T-shirt!
Who: Any Hudson High School Student!
Details: Submit a drawing for the front of the T-shirt to be worn by 500+ students during the Halloween Window Painting Event!
Design:
• Must include something Hudson related
• Must be a family friendly Halloween/fall theme
• Can be clip art or hand drawn
• Must be a black drawing with up to two additional colors
• Must include Hudson PTO and JoAnn logos
• Important: Sign your drawing and put your name/grade/phone/email on the back
Winner will receive the 1st printed T-shirt, a free window at JOANN to display your design, and a $50 gift card to Chipotle or Starbucks – your choice!
DEADLINE: Friday, September 29, 2021
Submit Design to the HHS front office or Mrs. Huber!
Presented by

Questions please contact: Susan Dukes and Sara Lerner